Overview
Business Reports empower your business by giving you access to insights at your fingertips.
You can use them in several ways, such as checking a company's credit score, verifying company credentials, contract reviews and supplier due diligence.
Benefits for you
Make better lending decisions

Simplifies searching for businesses

Flexibility - be as detailed or high level as you like

Provides real-time information to support your business

Greater confidence thanks to our analytics and predictive scores
Types of Business Reports
You can select from two scored credit reports:
Standard Business Report  - this profiles a business, its credit history and payment performance

Advanced Business Report - this has credit insights on the directors of a business plus all the information in the Standard Business Report. 
Accessing Business Reports 
You can use IQ Connect. If you're not registered contact us to set up an account.
For automated access to Business Reports contact us. 
Need a little help?
If you have any questions about Business Reports contact us.
FAQs
What's the difference between the Standard and Advanced Business Report?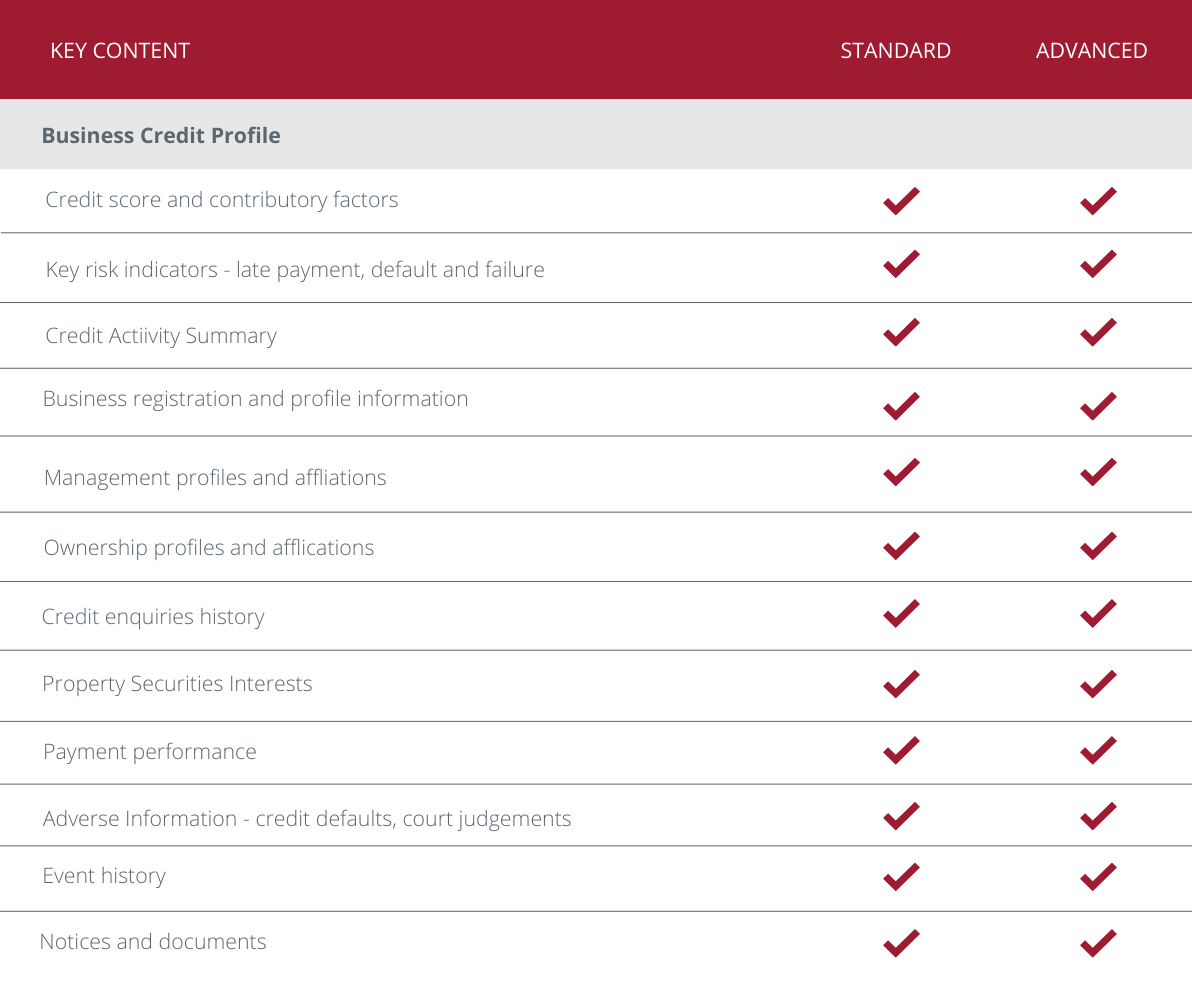 What are our information sources?
We gather business data from a range of sources, including: 
Companies Office - registered business information and updates 

NZ Gazette and Mercantile Gazette - court judgments 

Personal Property Securities Register - registered security interests held over property 

Equifax Subscribers - trade payments, defaults and enquiries
How recent is the information contained within the reports? 
All reports are dynamically updated at point of enquiry using the latest available business data.
What New Zealand-based businesses and organisations do we report on?
Private companies

Public companies

Charitable trusts

Incorporated societies

Credit unions

Friendly, building and industrial and provident societies

Contributory mortgage brokers

Overseas issuers 

Retirement villages 

Super schemes 

Unit trusts
Do we report on sole traders, partnerships and trusts?
Not currently. You can perform personal credit checks on an organisation's owner(s).  However, consent from them is required to access their personal credit information.  
Do the reports contain other risk measures? 
Yes. The reports provide a range of probability measures such as the likelihoods of late payment, default and failure where applicable. These measures feed into the calculation of the credit score. 
Is financial statement information available in the reports?
In New Zealand, the disclosure of financial statement information isn't compulsory and only a small pool of companies do this voluntarily. Therefore, business reports do not contain this information. We have a highly-specialised team of forensic accountants and analysts available for financial viability assessment purposes should you have a requirement in this area. For more information go to equifax.co.nz or contact your Equifax account manager.
Can others see when I have made a credit enquiry on a business?
Yes. All local business enquiries are recorded on the credit file of the business enquired upon and retained for a period of 5 years.