Strength in numbers: the power of property data
Strength in numbers: the power of property data
|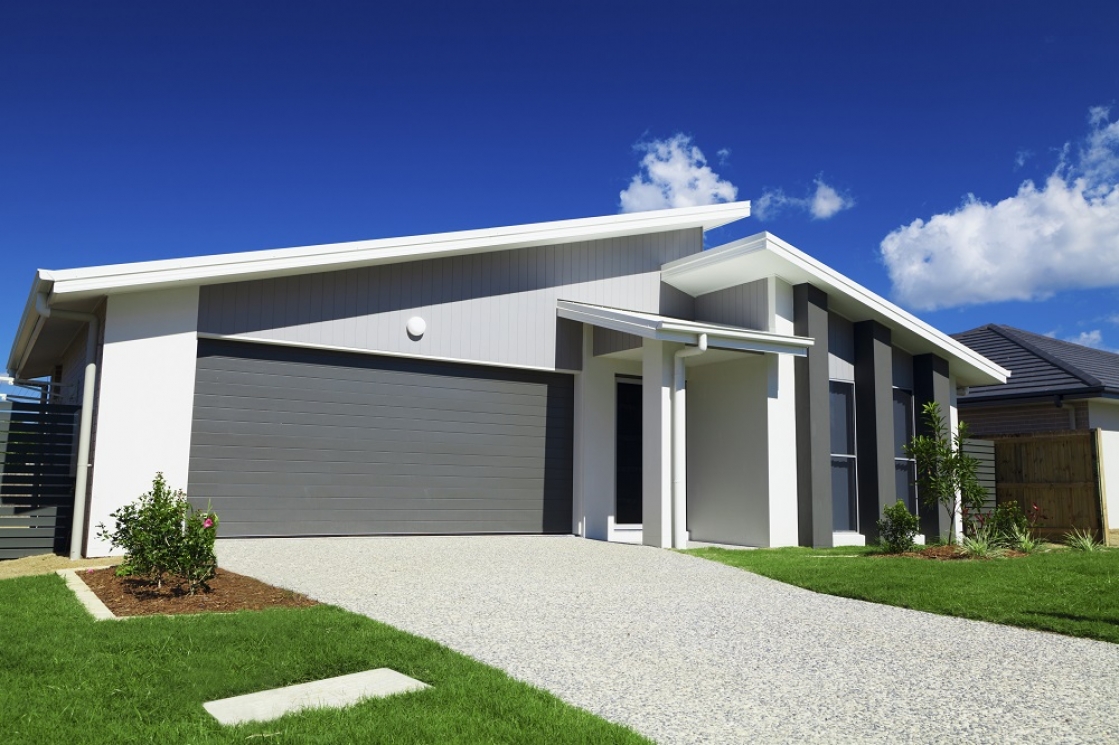 In 2016, Equifax partnered with Valocity, to deliver property solutions. In this blog, we speak to Carmen Vicelich, CEO and Founder of Valocity Data Insight, about property insights.
Equifax: Carmen, tell us how property data helps both consumers and businesses?
Carmen: Data is incredibly empowering, it enables decisions based upon factual data, rather than subjective, intuitive and often emotive decisions, especially when buying a home.
As consumers, we are all now researchers. We're all using the internet to find evidence based data to support the decisions we make, whether it's where we eat, where we shop or for bigger decisions like purchasing a home or an investment property.
For businesses, data insights mean risk can be managed in a way never before possible. Property data helps lenders see the full picture. For example, market changes, property trends and cycles are all considerations when a lender is considering approving a mortgage application.  
Equifax: Data Storytelling is becoming an increasingly sought after skill, particularly in larger entities. As the conduit between data scientists and business teams, what are the crucial things for the data storyteller to consider?
Carmen:  It's important that the storyteller presents a fair and accurate picture. For example, if you're looking at the performance of the property market in New Zealand, it's easy to get different results by using different markers. Are you using an average (mean) or median to measure the change in value?  
Statistically a median is much more accurate as it looks at the value in the middle. It's also important to consider the outliers. For example, average property price increases can be influenced if there are a few extreme sales in the mix.  Just a handful of very high or low value sales can drag the number up or down. The mean is much more sensitive to outliers than the median.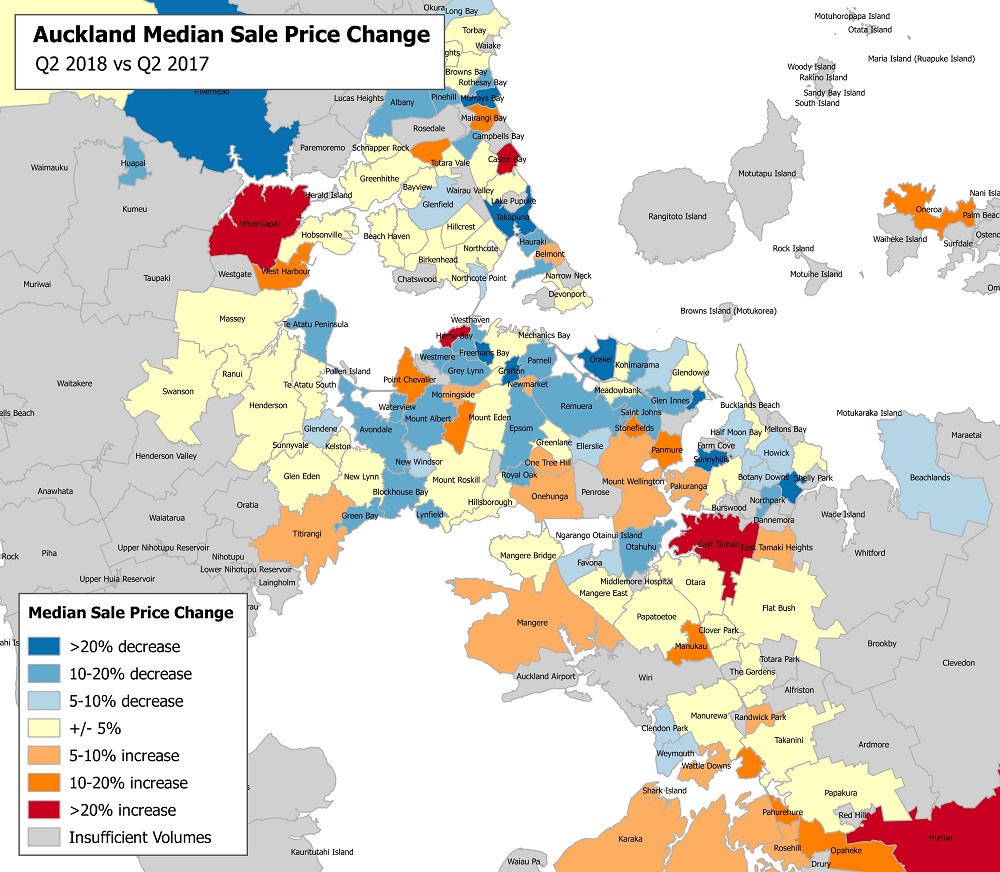 76 of the suburbs monitored experienced declines in median sales price between Q2 2017 and Q2 2018

37 suburbs declined by 10% or more.

21 suburbs increased by 10% or more

60 suburbs experienced a movement of +/- 5% which is considered indicative of current market conditions, characterised by softer demand levels and subdued buyer activity causing monthly variations in median sales prices.

Some of the areas with higher movements in median sales price, such as Herne Bay which represented a 56% increase in median sale price between 2017 – 2018 are characterised by relatively low sales volumes, therefore an increase in higher value property sales can inflate the median sales price.

Overall sales volumes have remained stable year-on-year.

Freemans Bay and Orakei observed the largest decrease in median sales price between the two quarters, both falling (33% each). This is considered a reflection of a relatively low number of transactions and markets characterised by a mix of property types and values, therefore if a most sales for the quarter occur at the lower end of the value range for the area, the median sales price is reduced significantly.
Equifax: We often talk about data as if it has magically appeared. We forget to humanise it; that every data point has a real human behind it. How important do you think it is to remember that, and why?
Carmen: Not every data has a human point behind it and we'll see more data automation and machine learning providing outputs.  We need to remember that data can tell different stories depending on the output. For example, if you don't filter out the categories of vacant sections from a residential sales price, the number and result will be different.  It will still be the result of residential sales, but a human will need to filter out data and make commercial decisions about input depending on the question they're asking.
Equifax: How do we best communicate to consumers that the data they provide is being used to make things easier for them?
Carmen: I think it's important for us to be highly transparent as data driven businesses, so consumers know when their data is being used and how. Consumers are sharing more information via social media for example, and businesses are using that data to deliver relevant experiences.
It's important that businesses instil trust and promote transparency around data usage. Brands like Spotify, Amazon and Netflix all do this very well.
Equifax: How does data reduce risk for both businesses and consumers?
Carmen: Good data reduces risk by providing evidence to support decision making. I recall when the 2008 GFC happened - businesses, especially banks, looked back and said, "the horses were bolting, and no one wanted to be the one to throw themselves across the line and say I think the market's changing." 
Capturing trend data and monitoring with data can help provide powerful insights that validate intuition and support risk decisions.  Likewise, for consumers, no one wants to over invest or over capitalise.  Having relevant data such as the performance of property in a suburb, rather than a whole city, helps us make decisions about how much to pay for a property, how much to invest in DIY and when to sell.
Equifax: As successful entrepreneur, you know the value of data, but it's still a challenge for many SMEs. Often, they have the data but aren't sure how to use it. What would be your advice?
Carmen: My advice is to think of data as an asset and just start!  Every business will have its own individual goals.  Here's some tips on how to start:
Consider how you'll securely and transparently capture data
Ensure stored data is secure
Start reporting, measuring and drawing insights from the data
Put actions in place to make data driven decisions
Capture the results of those actions
With those key actions in place, businesses are well on the way to differentiating from competitors. The biggest thing is to think small and just start!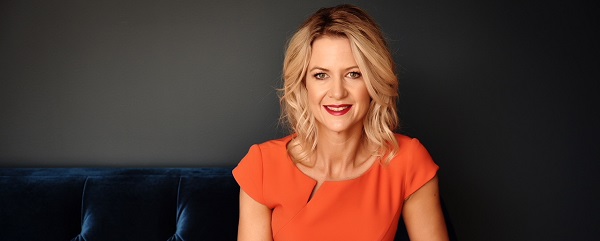 How can you humanise data in your business?
We can help. Talk to an Equifax Data-driven Marketing Expert to find out how.