School students to become credit-smart as new financial literacy partnership launches
School students to become credit-smart as new financial literacy partnership launches
|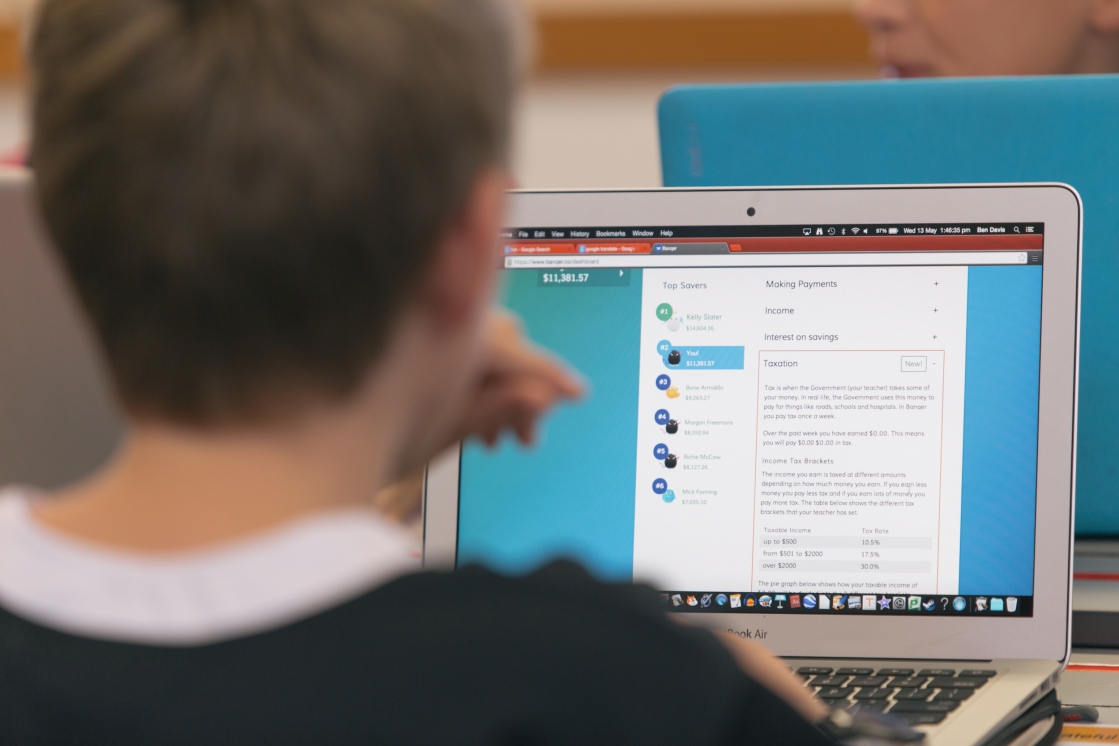 AUCKLAND, March 20, 2017 – Educating school students on the pros and cons of credit so they become more financially savvy is driving a new partnership which will be launched at Murray's Bay Intermediate School in Auckland today.
Equifax (formerly known as Veda) is a global information solutions company and the leading provider of credit information and analytics in New Zealand. Equifax has partnered with Banqer, a simulated online banking tool for the classroom, featured on Nigel Latta's Mind Over Money series last Monday night.  
With sponsorship and input from Equifax, Banqer has added a custom built credit module to their offerings, which will be unveiled this afternoon.
The Banqer credit module will round out an already impressive range of modules including simulated bank accounts, income, interest on savings, taxation, real estate, insurance, KiwiSaver and careers.  
"Learning about credit reports, credit scores, credit worthiness and allowing students to see the real-life implications of their financial decisions is essential if we want to build a more financially literate nation," says Carol Chris, Managing Director of Equifax New Zealand.
Co-founder of Banqer, Ms Kendall Flutey and Ms Chris agree that education on how financial behaviour impacts credit histories in New Zealand is still very much in its infancy. "By working together we will be helping our young New Zealanders understand the importance of a good credit history from an early age," says Ms Chris.
"We know that Banqer's existing learning platform is very popular among schools and that Kiwi kids enjoy the simulated learning environment. As a result, students are now sharing their knowledge with peers and family. Partnering with Banqer is a great way for Equifax to support the education of our younger generation on the importance of credit history in a fun and informative way."
The module introduces the concept of both credit reporting and credit scores related to financial history. The credit score is underpinned by the student's engagement within Banqer, with positive behaviours (such as making timely repayments) increasing the student's credit score, and negative ones (such as missing a bill payment), reducing the score. This is then presented to students via a credit report, which reveals their current credit score and the factors that contributed to this score.
"The report also suggests ways in which a student can work to improve their credit score, along with the rationale why," says Ms Chris. "This is a particularly important element of the module as it demonstrates that recovery is possible with better financial decisions and planning for unexpected events."
To create the incentive for a good credit score, students will be able to take out simulated personal loans. What students can purchase with their loan money will change from classroom to classroom as this will be largely dictated by the direction of the teacher.
Ms Flutey says the introduction of credit reporting and credit scores into the Banqer platform will fill a fundamental financial gap for students. "First-hand exposure to the notion and consequences of your credit score will result in a more credit conscious generation of New Zealanders which is something we're really proud to be impacting."
"The new credit reporting module in Banqer will increase the students' financial literacy and capability in regards to this concept. Hopefully over time this will help develop a healthy approach to credit amongst our youth."
Both Ms Chris and Ms Flutey believe the introduction of the credit module into Banqer will have a profound effect on improving the financial literacy and capability of students. "We will see this knowledge making its way back into homes, educating whānau as well," concluded Ms Chris.
To see how Banqer works, a free trial is available at www.banqer.co
Media enquiries
Serena Benson
Public Relations Consultant
SB Communications
+64 (0)22 077 0767
info@serenabenson.com
About Equifax
Equifax is a global information solutions company that uses trusted unique data, innovative analytics, technology and industry expertise to power organisations and individuals around the world by transforming knowledge into insights that help make more informed business and personal decisions. The company organises, assimilates and analyses data on consumers and businesses worldwide.
Headquartered in Atlanta, Ga., Equifax operates or has investments in 24 countries in North America, Central and South America, Europe and more recently in the Asia Pacific region, with the acquisition of Veda, a data analytics company and the leading provider of credit information and analysis in Australia and New Zealand. Combined the companies bring nearly 170 years of data and insights experience to the marketplace.
Equifax is a member of Standard & Poor's (S&P) 500® Index, and its common stock is traded on the New York Stock Exchange (NYSE) under the symbol EFX. Equifax employs approximately 9,500 employees worldwide. For more information visit www.equifax.com
About Banqer
Banqer is a fast growing New Zealand company bringing financial literacy education to life in classrooms and is currently used by more than 30,000 New Zealand students. The core of Banqer is a simulated banking experience for students that when implemented, brings an economy into the classroom. Students get to manage their own personal finances, start businesses and even retire, condensing a lifetime of financial decision making into a school year.